A Frame Datil Pepper Sauce – (Three "3" Pack of 5 Oz. Bottles)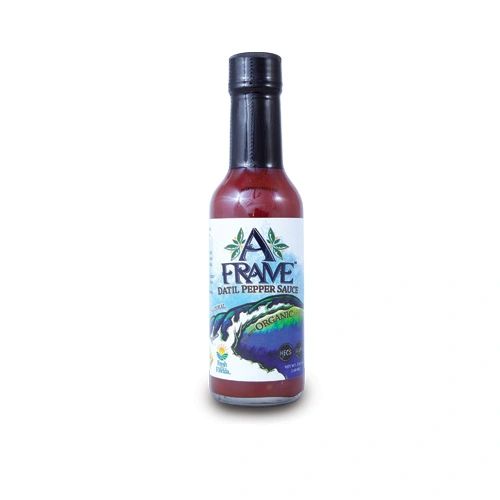 A Frame Datil Pepper Sauce – (Three "3" Pack of 5 Oz. Bottles)
A Frame Datil Pepper Sauce
A-Frame Datil Pepper Sauce is an all-natural hot sauce specially blended with Local St Augustine Datil Peppers, Bell Pepper and Chiles that produce a wonderful concoction that will ignite your food and taste buds. It's a perfect balance of heat and sweet, a sauce for everyone to enjoy! It's focused on flavor and derived from a homegrown recipe that's now bottled on a larger scale. A Frame is also a Fresh From Florida certified food product. Use as a table condiment, marinade, glaze and dipping sauce. Try with...pretty much anything! Here's a few suggestions to help: Chicken (Take your wings to a whole new level!) - Eggs - of course - Seafood - Fried, grilled ... however you like it! - Vegetables - Tacos - si por favor!
Gluten Free - NO High Fructose Corn Syrup - NO Preservatives - NO Artificial Flavorings
From: Florida
Ingredients: Brown sugar, diced tomatoes, Bell peppers, apple cider vinegar, onions, tomatoe paste, Green Chili peppers, Datil peppers, lime juice, distilled vinegar, salt, dry mustard, onion, powder & garlic powder.