Another Bloody Day in Paradise (Three Pepper Lemon) Hot Sauce - (Twelve "12" Pack Of 5 Oz. Bottles)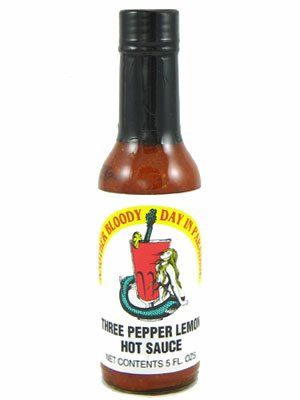 Another Bloody Day in Paradise (Three Pepper Lemon) Hot Sauce - (Twelve "12" Pack Of 5 Oz. Bottles)
Another Bloody Day In Paradise - (Three Pepper Lemon Hot Sauce)
The PERFECT hot sauce for a Bloody Mary! 
Made for a Bloody Mary, but also try in chili, over steaks and on your eggs in the morning!!!
Awards:
1998 International Fiery Food Association Scovie Awards, 3rd Place winner!
1997 Food Distribution Magazine Superior Product Award Winner!

Manufactured for Peppers of Lewes, Delaware.
Ingredients:
Tabasco peppers, vinegar, lemon juice from concentrate, Black pepper, salt, spices & green Chile peppers.