Ass In The Tub – Armageddon The Hot Sauce To End All! 5 OZ. (3 Pack)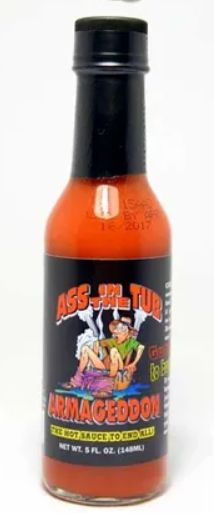 Ass In The Tub – Armageddon The Hot Sauce To End All! 5 OZ. (3 Pack)
ASS IN THE TUB - ARMAGEDDON THE HOT SAUCE TO END ALL!!
Guaranteed to burn twice! Caution: This pepper sauce is seriously hot. In fact, this is about as hot as it gets. It's brutal, it's monumental, it's Armageddon - it's your ass! It might sound like we're bragging, but really we're just giving advance notice that it's going to burn on the way in and...well, you get the picture. It's a moving experience. 
Try in chili's, soups and stews, or mix in with other sauces to kick up the heat!!!


PRODUCT OF: COSTA RICA
FROM: TEXAS


INGREDIENTS: Habañero peppers, African Oleoresin, Scotch Bonnet peppers, salt, onions, vegetable oil & garlic.
Reviews