Bee Sting "Thai Sting" Sweet Sauce Chili Ginger Garlic Honey Chili – (Twelve "12" Pack Of 5 Oz. Bottles)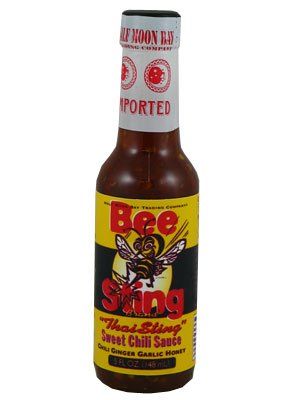 Bee Sting "Thai Sting" Sweet Sauce Chili Ginger Garlic Honey Chili – (Twelve "12" Pack Of 5 Oz. Bottles)
Bee Sting "Thai Sting" Sweet Sauce Chili Ginger Garlic Honey Chili - Our take on the Thai classic...East Meets West with a little "Pura Vida" Thrown In! From bustling Bangkok to sunny San Jose, we merged two diverse epicurean cultures into one sizzling sauce. Handmade in small batches. All Natural. All killer - No filler. Excellent in grilling marinades & glazes and as a splashing & dipping table sauce. Great with Thai food, tofu, chicken, pork, shrimp, curries & Chinese take out too.
Made in Costa Rica from California
Ingredients: Sugar, corn syrup, tomato paste, crushed dried red pepper, honey, garlic, salt, cane vinegar, onion, ginger, beet powder.