Bigfat's Vega Mojo Peach Serrano Hot Sauce (3 Pack)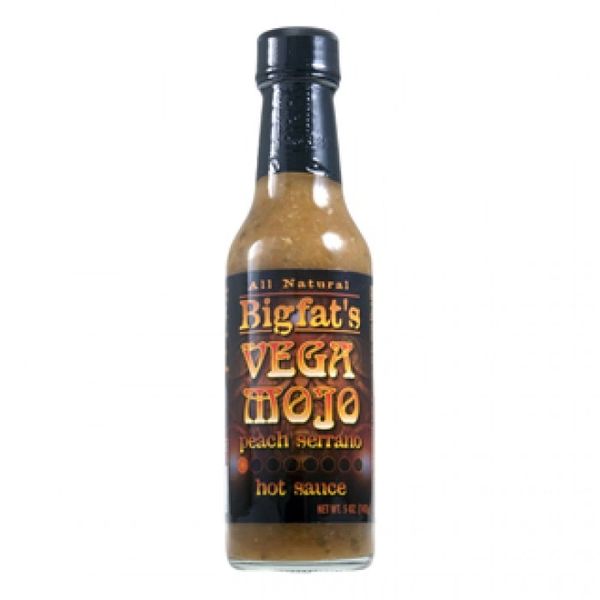 Bigfat's Vega Mojo Peach Serrano Hot Sauce (3 Pack)
Bigfat's Vega Mojo Peach Serrano Hot Sauce (3 Pack)
Vega
- noun [vey-guh] - brightest star in the constellation Lyra and vertex of the Summer Triangle in the northern skies.
Mojo - noun [moh-joh] - a magic charm or spell; magical power.
Product Description:
A vernal nebula springs to life as sweet peaches and vidalia onions frolick in perfect harmony.
Heavenly serrano peppers then bestow their sublime, subtle heat to create Vega Mojo, the celestial magic of summer.
Goes great with:


Chicken, pork, turkey, pizza, tacos, seafood, brie and other mild, soft cheeses, sandwiches, stuffed peppers, eggs.
Ingredients:


Peaches, vidalia onion, serrano pepper mash (serranos, vinegar), cider vinegar, lemon juice, garlic, cilantro, sea salt and cinnamon.
Product Reviews:
One of the best in the BIZ

Posted by Unknown on 3rd May 2016

One of my top 3 favorite hot sauces although not the hottest the flavor profile trumps heat in this one. Its unmatched

---

Interesting

Posted by Marian Krupa on 21st Mar 2016

I'm new to bigfat's but this is one of the best ones I tried. Love the peach and mild hot notes.


---

I'm a believer

Posted by Tom on 5th Apr 2014

I wasn't sure about a fruit hot sauce at first, but I've found that the Peach Serrano hot sauce enhances the flavor of everything I've tried it on. The sweet complements a lot of different flavors, and there's enough of a zing to it to let you know you're not just messing around. I've found it's great on stir fry, chicken, and pork. Also a delicious accent to salads.

---

Small bite but very good

Posted by Unknown on 24th Jan 2014

This sauce is mild with a small bite it packs alot of flavor and taste. Good on chicken for sure. Definitely will buy other flavors as well.