Cicero Beverage Company Bacon Bloody Mary Mix - (Two "2" Pack Of 32 Oz. Bottles)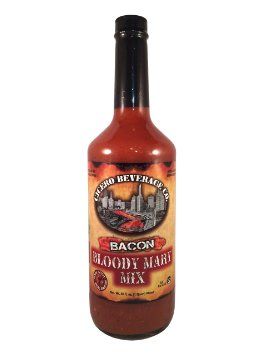 Cicero Beverage Company Bacon Bloody Mary Mix - (Two "2" Pack Of 32 Oz. Bottles)
Cicero Beverage Company Bacon Bloody Mary Mix
Perhaps you've had a late night of reveling and merriment, and you've got a bit of a hangover. Okay, you've got a huge hangover, and you need a Bloody Mary-stat! You drag yourself off the couch and stumble into the kitchen when you realize you don't have any bacon! Or any Bloody Mary Mix. What a sad, sad state of affairs... But with this Bloody Mary Mix, you never have to go without a Bacon Bloody Mary again. Just keep a bottle or two of Cicero Beverage Company's Bacon Bloody Mary Mix stocked in your bar. It's got bacon already mixed in it! Whoa, what kind of a genius thought that up? Just add your favorite vodka and you're good to go. Right back to the couch.
Directions: Open, mix with your favorite vodka, or just pour over ice and enjoy! Refrigerate after opening.
From: Illinois
Ingredients: Water, Tomato Paste, Worcestershire Sauce, Salt, Bacon, Hot Sauce, Black Pepper, Sugar, Spices & Coloring, Onion Juice, Lime Juice, Garlic Powder, Beef Base, Natural Flavoring & Onion Powder.