Doc Holliday's Feel Good Elixir Hot Sauce - (Three "3" Pack Of 5 Oz. Bottles)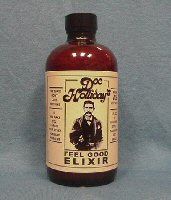 Doc Holliday's Feel Good Elixir Hot Sauce - (Three "3" Pack Of 5 Oz. Bottles)
Doc Holliday's Feel Good Elixir Hot Sauce
A Real Southern Style Habañero Hot Sauce! This Elixir Won't Cure Anything. It Will Make You Forget Your Other Pains & Problems. This sauce is from one of Florida's hot sauce doctors that knows what will keep you sweatin'! This real hot, hot sauce will be one that you might want to see your real doctor about!
From: Florida
Ingredients: Ketchup, Habañero chilies, red wine vinegar, tomato paste, Worcestershire sauce, onions, garlic, Key lime juice, salt, herbs, spices.