Tatanka 3 Hotter Hot Sauce – (2 Pack)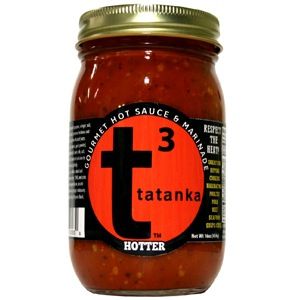 Tatanka 3 Hotter Hot Sauce – (2 Pack)
Tatanka 3 Hotter Hot Sauce – (2 Pack)

Superior blend of herbs and spices with more of a kick at the end. Great for cooking, marinades and a zesty topping! Chicken Wings, Pork Chops, Grilled Shrimp, Scrambled Eggs/Omelets, Sausage, Scrapple, French Fries, Hot Dogs, Burgers, Tacos, Pizza, Chili, Nachos, Spaghetti, Guacamole, Cheesesteaks, Bloody Mary, Oyster Shooters and much more.
From: Delaware
Ingredients: Peppers, vinegar, salt, xanthan gum, honey, minced garlic, spicy brown mustard, parmesan cheese, artificial butter flavor, light brown sugar, basil, Black Pepper, oregano, Pepper Extract.
Discounts available on multiple quantities!