Georgia Peach and Vidalia Onion Hot Sauce with Red Velvet Top - (Three "3" Pack Of 5 Oz. Bottles)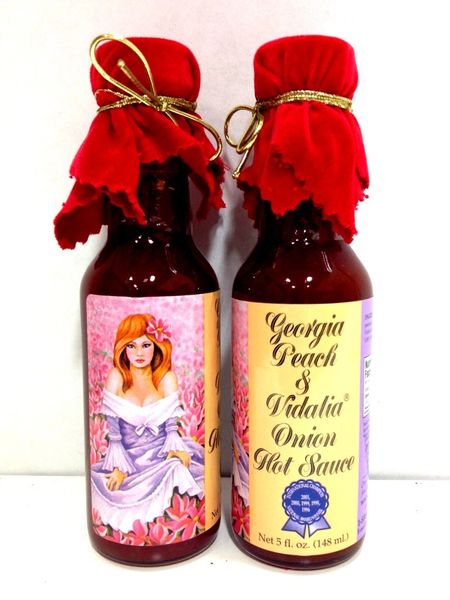 Georgia Peach and Vidalia Onion Hot Sauce with Red Velvet Top - (Three "3" Pack Of 5 Oz. Bottles)
"Georgia Peach & Vidalia Onion Hot Sauce With The Red Velvet Top"
The famous sauce with the red velvet top goes well with all food groups. Fantastic with breakfast dishes such as scrambled eggs. Great on fresh seafood, as a wing sauce or with all meat concepts. This multiple national award winner is flying off the shelves.
Awards:
2005 NBBQA Championship - Won 4th Place - Hot Sauce Category
2003 International Scovie Awards - FIRST Place Mild Hot Sauce
2002 Grand Prize Recipe Ingredients Rehoboth Beach Chocolate Festival
2001 International Champion Hot Sauce - National Barbecue Association.
2001 Boston's Pig and Pepper Festival - 2nd Place Hot Sauce
2000 National Fiery Foods Challenge - 3rd Place - Fruit Hot Sauce.
2000 Champion Hot Sauce - Emmaus, Pa. Hot Sauce Festival.
2000 International Champion - National Barbecue Association Gourmet Show - 2nd Place.
1999 Chile Pepper Magazine Fiery Foods Challenge - 2nd Place.
1999 2nd Place Philadelphia Book & Cook Gourmet Show
1998 First Place Scovie Award Winner - National Fiery Food Show.
1998 Washington DC Hot Sauce Contest - 2nd Place
Reviews:
Written about in the New York Times, Woman's Day Magazine, Gourmet News, N.Y. Daily News, The National Culinary Review, Toronto's National Post, Chile Pepper Magazine, Fiery Foods Magazine & Baltimore Valley Times. For all of you afficionados out there this sauce is also available in a gallon-size bottle.
Made: For Peppers in Rehoboth Beach, Delaware.
Ingredients: Cane Sugar, Red Chili Puree, Vinegar, Peaches, Green Jalapeño Peppers, Salt, Minced Onions, Tomatoes, Vidalia Onions, Cayenne Pepper, Capsicum Oil.