Heartbreaking Dawns Cauterizer Trinidad Scorpion Sauce - (Single 5 Oz. Bottle)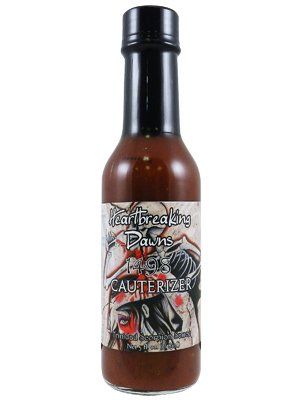 Heartbreaking Dawns Cauterizer Trinidad Scorpion Sauce - (Single 5 Oz. Bottle)
Heartbreaking Dawns Cauterizer Trinidad Scorpion Sauce
Well here it is, the highly anticipated 1498 Cauterizer. They've taken the exceptional flavor of our original 1498, and recreated it with 100% fresh TRINIDAD SCORPION PEPPERS. Why would they do that? MORE FIRE FIRE FIRE, MORE FLAVOR!! With all of the buzz surrounding the Guinness Book's NEW Hottest Pepper, they know many of you Chileheads out there want to experience the full incinerating potential of the Trinidad Scorpion Pepper used in a truly artisan creation. As with all of their products, flavor continues to be job 1. With all of the strong feedback on the original 1498, the follow up just seemed obvious. Remove the Scotch Bonnet Blend, Up The Scorpion Content and BOOM! They've even upped the overall Pepper content just a bit, for that extra Blast! Cauterizing Heat AND Irreplaceable flavor! Searing Passion , Sensory Seduction.
From: New Jersey
Ingredients: Trinidad Scorpion Peppers, cider vinegar, apricot preserves, blueberries, carrot, honey, onion, soy sauce, sea salt, garlic, ginger, White pepper.