Hot Girls Goin' Wild (4 Pack Gift Set)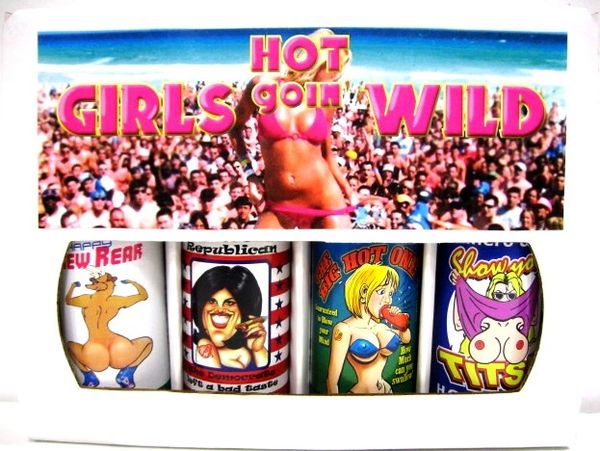 Hot Girls Goin' Wild (4 Pack Gift Set)
HOT GIRLS GOIN' WILD - 4 PACK GIFT BOX


HAPPY NEW REAR PINEAPPLE CURRY HOT SAUCE
"DON'T WANT NON FOR CHRISTMAS. UNLESS YOU GOT BUNS, HUN!"


FROM: DELAWARE
INGREDIENTS: PINEAPPLE, ONIONS, ORANGE HABANERO PEPPER, APPLE CIDER VINEGAR, RICE WINE VINEGAR, HONEY, TURMERIC, BLACK PEPPER, DRY MUSTARD, CUMIN, CHILI POWDER, GINGER, CORIANDER, CAYENNE PEPPER


MONICA I VOTED REPUBLICAN HOT SAUCE
"THE DEMOCRATS LEFT A BAD TASTE IN MY MOUTH! I FULLY ENDORSE THE USE OF THIS HOT SAUCE... IN FACT IT'S BETTER THAN MOUTHWASH!" QUESTION OF THE DAY... WHAT DO MONICA AND A VENDING MACHINE HAVE IN COMMON? ANSWER: THEY BOTH SAY... "INSERT BILL HERE"


FROM: RISQUEHOTSAUCE.COM
INGREDIENTS: HABANERO PEPPERS, CARROTS, ONIONS, VINEGAR, GARLIC, LIME JUICE AND SALT


THE BIG HOT ONE - HOW MUCH CAN YOU SWALLOW HOT SAUCE
GUARANTEED TO BLOW YOUR MIND. HOW MUCH CAN YOU SWALLOW? SLIDE THIS BABY BETWEEN YOUR LIPS AND TAKE A BIG SWALLOW. THE BIG HOT ONE IS EXPLODING WITH INCENDIARY JUICES SURE TO SATISFY YOUR FIERY FANTASIES. REMEMBER - SIZE DOES MATTER, ESPECIALLY IN SCOVILLE UNITS!


FROM: LOUISIANA
INGREDIENTS: CAYENNE PEPPER, SALT, OLEORESIN CAYENNE, STARCH, CARAMEL COLOR


SHOW YOUR TITS HABANERO & GARLIC HOT SAUCE
DON'T BE SHY, TREAT SOME GUY, AND LET THOSE SWEATER PUPPIES BREATHE!! COMES WITH FREE MARDI GRAS BEADS.


FROM: NORTH CAROLINA
INGREDIENTS: HABANERO PEPPERS, DISTILLED VINEGAR, GARLIC, SALT
Reviews