Iguana Mean Green Jalapeño Pepper Sauce - (Three "3" Pack Of 5 Oz. Bottles)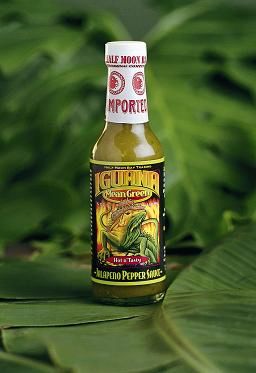 Iguana Mean Green Jalapeño Pepper Sauce - (Three "3" Pack Of 5 Oz. Bottles)
Iguana Mean Green Jalapeño Pepper Sauce
All Killer/No Filler. At the Bay, they think hot sauce should never be gratuitously hot, forsaking flavor. (We've all been there.) That's why they created Iguana Mean Green Jalapeño Pepper Sauce, which features a very delicate balance between the moderate heat of the Jalapeño pepper and its unique, fresh, "grassy" flavor. Hot n' tasty is where it's at: the first wave of flavor here is the fabulous onion, garlic and Jalapeño blend, followed a few seconds into the wave with a perfect dose of Jalapeño heat. Iguana Mean Green rules in all seafood, chicken and pork dishes, not to mention eggs, beans and rice, soups, chili and in marinades for the grill.
From: Florida
Product of Costa Rica
Ingredients: Jalapeño peppers, carrot, cane sugar, salt, onion, vinegar, garlic.