Ingleby Farms Mesquite Barbeque Pepper Sauce - (Two "2" Pack of 11.5 Oz. Bottles)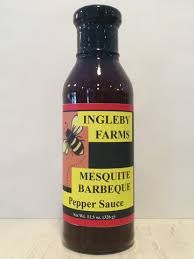 Ingleby Farms Mesquite Barbeque Pepper Sauce - (Two "2" Pack of 11.5 Oz. Bottles)
Ingleby Farms Mesquite Barbeque Pepper Sauce
A sensational blend of flavors East to West. Uses vary from a condiment to an exciting sauce, marinade or glaze. Great for dipping wings, chicken fingers, tacos or pretzels. Be creative! Serve with poultry, beef, ham or fish as a sassy sauce. Liven up that meatloaf! An awesome sauce for hors d'oeuvres. Simply open a bottle and serve. Enjoy!
Awards :
2000 National Fiery Food Challenge, 1st Place.
1999 National Fiery Food Challenge, 2nd Place.
1999 Food Distribution Magazine Fiery Foods Shoot Out, 2nd Place.
From: Peppers in Lewes, Delaware
Ingredients: Tomato paste, tomato puree, sugar, hot peppers, corn syrup, salt, modified corn starch, natural mesquite smoke flavor & spice.