Jak Jeckel Pepper Sauce Detroit Style Coney Sauce - (Three "3" Pack Of 5 Oz. Bottles)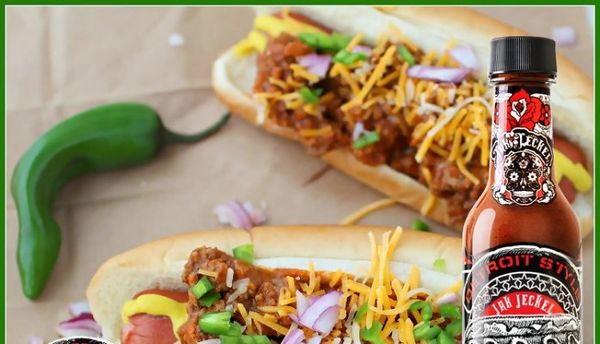 Jak Jeckel Pepper Sauce Detroit Style Coney Sauce - (Three "3" Pack Of 5 Oz. Bottles)
Jak Jeckel Detroit Style Coney Sauce
Everyone loves their Coney style hot dog piled high with condiments and toppings. Detroit Style Coney Sauce is a spicy tomato based sauce with mild heat and ALL the flavors of the classic "piled-high" Coney hot dog. This sauce gives you the rich tomato flavor of gourmet ketchup complimented with the flavors of pickled Jalapeños, gourmet mustard's, caramelized onions and intense gourmet spices. Detroit Style Coney Sauce is a complex, spicy and well-balanced alternative for anyone seeking a next level spicy "ketchup". Mild heat and rich full flavors make Detroit Style Coney Sauce the perfect compliment to any foods one would normally use a ketchup or mustard condiment on. Detroit Style Coney Sauce is NOT a hot sauce. This unique sauce is blended specifically for hot sauce lovers who want more from their other condiments. Great for hot dogs, burgers & fries!!!
From: Pennsylvania
Ingredients: Tomato puree, pickled Jalapeños, mustard seed, brown mustard seed, tumeric, cane sugar, onion, sea salt, Cayenne Chili powder, Worcestershire, cider vinegar & Jak Jeckel Seasoning Blend.
Discounts available on multiple quantities!