Louisiana Gold Wasabi Pepper Sauce - (Single "1" 5 Oz. Bottle)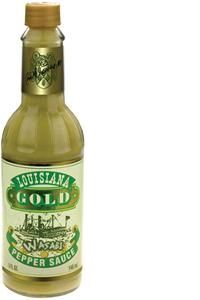 Louisiana Gold Wasabi Pepper Sauce - (Single "1" 5 Oz. Bottle)
Louisiana Gold Wasabi Pepper Sauce
A unique blend of Wasabi & peppers that provides the perfect flavor profile and heat level to compliment Asian dishes, especially sushi. Developed at the request of restaurant owners, and with a definite upscale flavor in mind, our two flavors represent the Gold Standard among hot sauces. So, we invite you to compare us to that "other" hot sauce and don't be surprised to discover what Louisiana Gold Pepper Sauces offer:


Superior Flavor

 - Louisiana Gold delivers more pure pepper flavor and a smoother taste that won't overpower other recipe ingredients, or your finished dishes. And, unlike some other pepper sauces, there's never a bitter or abrasive aftertaste.



Higher Quality

 - Our primary ingredients are peppers – three kinds, all the freshest available, all exclusively blended with no gums and no artificial preservatives or colors. The "other" brand's primary ingredient? Vinegar.



More Versatility

 - With both red and green varieties available, Louisiana Gold Pepper Sauces are ideal as a table condiment, even in white tablecloth surroundings. And for specialty recipes on cutting edge menus.

From: Louisiana
Ingredients: Peppers, corn syrup, vinegar, salt, mustard seed, white wine, Wasabi powder, spices.
Review:
Ingredients:
Peppers, Corn Syrup, Vinegar, Salt, Mustard Seed, Natural Flavor (Contains Canola Oil), White Wine, Wasabi Powder, Xanthan Gum, Citric Acid, Tartaric Acid, Spices.
Aroma:
4 out of 5. Smooth, sweet, vinegar, light mustard, light peppers. Fragrant and beautiful, and not strong as one might expect.
Texture and Appearance:
2.5 out of 5. More greenish-yellow than Louisiana Green Sauce, yet still very similar in pea-green color (that's the vegetable pea, not the other one, you filthy-minded fool). Runny, but not see-through. Smooth and splashable. The consistency was good, the color left something to be desired.
Taste Straight Up:
This is no mere Louisiana-style pepper sauce. It's as different to the Louisiana Original Hot Sauce as it is to barbecue sauce or teriyaki sauce. I'm pleasantly surprised with what I taste. First is the nearly-immediate tinge of vinegar, and then following behind by a few seconds was blast of bright, tart, hot flavors – the wasabi, peppers (the label does not mention what type, so I'm speculating it may be jalapenos due to the condiment's greenish appearance) fusing with the vinegar. This tangy heat is definitely unexpected. No, it's not going to compete with the latest mouth scorchers from Blair's or CaJohn's, but for a mainstream sauce it's got pizazz.
Next up were hints of white wine and mustard. Several seconds after putting this on my tongue the sweet mustard flavor was starting to steal the spotlight as the dominant ingredient. The light amount of salt was balanced nicely with the rest of the other flavors. So far, so good, and ol' Scotty was impressed.
Taste on Food:
5 out of 5. Grilled tilapia with green beans, Brussels sprouts and new potatoes was on the plate, and it was time to put Louisiana Gold Wasabi Hot Sauce to work. Wow! It was spot-on phenomenal. It provided a light, sweet touch and performed as a proper sauce should: it complimented the taste of the fish perfectly and got out of the way enough to let the terrific, mellow flavor of the seafood shine through. Wanna see a match made in heaven? It's gotta be this!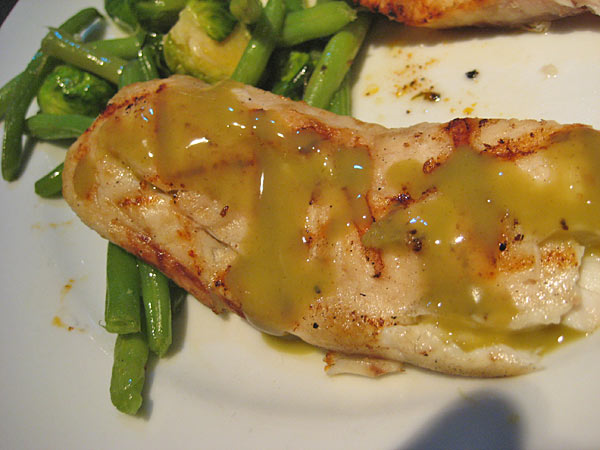 Heat:
The combo of wasabi, peppers and vinegar give it a seemingly strong jolt. Heat, whether it was perceived or real, is around 2 or 2.5 on a scale of 1 to 5, with 5 being a nuclear bomb blast. This is the spiciest thing I've had from Louisiana brand.
Label:
Classy, but this is too close to the Louisiana Gold Green Pepper Sauce in appearance. From the sauce color to the label color, it would be extremely easy to mistake one for the other. Only if you study each intently will you notice the subtle differences.
Overall:
For a major brand that's in most grocery stores in America, I'm duly impressed. At around $3.00 for a five-ounce bottle Louisiana Gold Wasabi Hot Sauce is a steal. If you can't find it in your neck of the woods, you can go to the Bruce Foods online store to score this one or the other sauces in the Louisiana Gold line.