Mr. & Mrs. T Horseradish Bloody Mary Mix (2 Pack)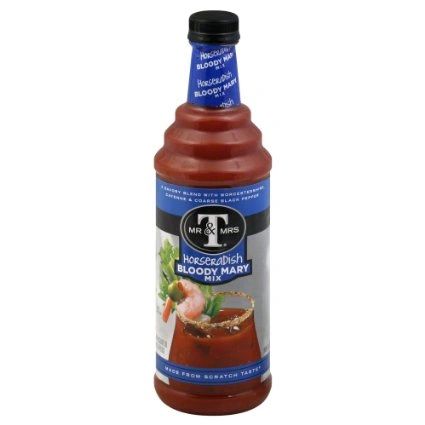 Mr. & Mrs. T Horseradish Bloody Mary Mix (2 Pack)
Mr. & Mrs. T Horseradish Bloody Mary Mix
"A richer, zestier blend of quality ingredients for an authentic homemade taste. Mr. & Mrs. T's Horseradish Blend is the 1st Bloody Mary that's truly as good as homemade. This delicious, all-natural blend was developed at the world renowned Culinary Institute of America with feedback from industry experts. The result - the perfect blend of the finest, freshest ingredients - without the extra labor and waste associated with scratch preparation. Serve a consistently delicious Bloody Mary every time! We use only the finest variety of flavorful ingredients including horseradish, White & Black pepper, and other zesty seasonings. The result is a deliciously textured blend bursting with spicy freshness you can see, taste & feel!"
Directions:
Add 4 parts mix to 1 part vodka, gin, rum, or tequila, over ice. Our mix is also delicious by itself. Simply pour over ice and serve.
From: Connecticut
Ingredients: Tomato concentrate, high fructose corn syrup, vinegar, horseradish, salt, onion powder, spices, lemon juice concentrate, garlic powder, natural flavors, dried green onion, Jalapeno Pepper Granules, soy sauce, yeast extract & Red Chili Pepper.