Peppers Blue Crab Chipotle Smoked Corn Salsa - (Three "3" Pack Of 12 Oz. Bottles)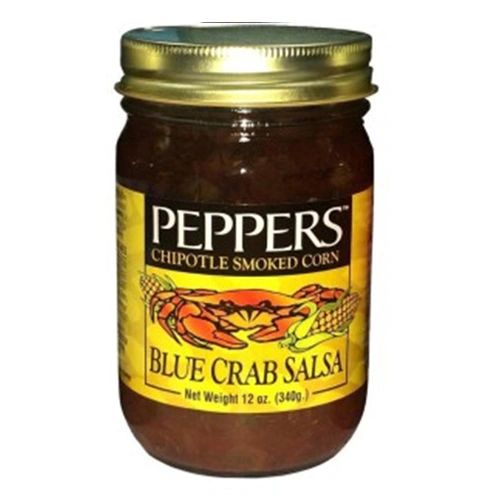 Peppers Blue Crab Chipotle Smoked Corn Salsa - (Three "3" Pack Of 12 Oz. Bottles)
Peppers Blue Crab Chipotle Smoked Corn Salsa
This fusion salsa combines the taste and tradition of a fine Southwest Style with the mouthwatering addition of Maryland Blue crab meat and smoked corn. The end result is a chunky, full flavor salsa, brimming with taste and ready to eat. Serve with warmed tortillas or over scrambled eggs, as a side dish, or right out of the jar with a bag of chips!
Awards:
2005 NBBQA National Champion! Won 1st Place - Best Salsa
2004 National Barbecue Association Award of Excellence, National Champion in the Salsa / Any Thing Goes Category
No Fat.
Made: For Peppers in Lewes, Delaware
Ingredients: Diced tomatoes, Maryland Blue Crab Meat, sweet yellow corn, finely chopped Green Bell peppers, lime juice, smoked Chipotle peppers, minced Green Chili peppers, Worcestershire sauce, a special Blend of herbs and spices, Salt.