Scotty O'Hotty Beer-Bacon Chipotle Hot Sauce - (3 Pack)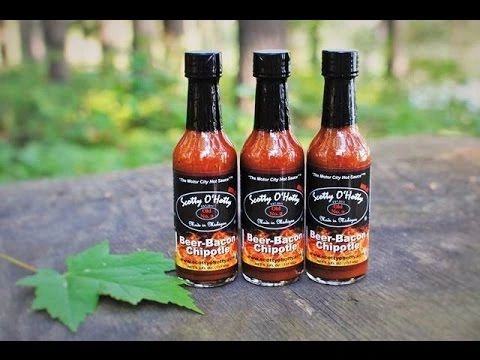 Scotty O'Hotty Beer-Bacon Chipotle Hot Sauce - (3 Pack)
Scotty O'Hotty Beer-Bacon Chipotle Hot Sauce - (3 Pack)

Scotty O'Hotty Beer-Bacon Chipotle Hot Sauce - Oh yes they did! They have combined the major food groups into one savory, smokey, beer bacon delight. This delicious sauce is like no other sauce you have ever tasted. This mild sauce is rated "E" for everyone & taste tested by some of the best culinary experts in the country. We've been told "the BBC is the best bacon sauce in the universe!" We will let you be the judge of that!
Awards:
1st place (Chipotle) Chili Pepper Magazine awards 2015(Houston Hot Sauce Festival)
1st place (specialty hot sauce) WOFI award Weekend of Fire
Scovie award winner 2015,
3rd place Chipotle, World Hot Sauce Awards 2015
3rd place Chipotle, NewYork Hot Sauce Expo 2015
1st place Chipotle, 1st place specialty sauce, 2nd place Mild & Foodie Award-Best on a Burger The Hot Pepper Awards 2014,
1st & 2nd place Chili Pepper Magazine awards 2014 (Houston Hot Sauce Festival),
2nd place WOFI award 2014 (Jungle Jim's Weekend of Fire)
From: Michigan
Ingredients: Vine-rippened tomatoes, beer, Vidalia onions, roasted Bell peppers, vinegar, tomato sauce, Chipotle peppers, Pablano peppers, MI red apples, roasted Jalapeños, Hungarian peppers, garlic, soy sauce, Habañero peppers, real bacon natural bacon flavoring, horseradish, olive oil,smoked sea salt, curry powder, peppercorn & assorted spices.