Shitty Gift Box. Funny (4 Pack Hot Sauce Gift Set)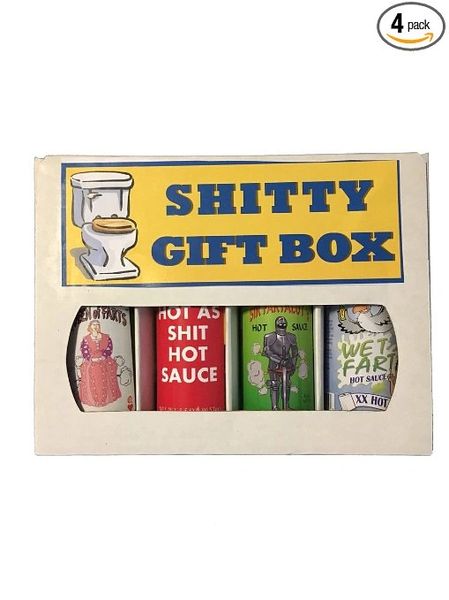 Shitty Gift Box. Funny (4 Pack Hot Sauce Gift Set)
Shitty Gift Box - 4 Pack includes:
Queen Of Farts, Hot As Shit, Sir Fartsalots & Wet Fart.
Queen Of Farts
This sauce will make you think you are the Queen of Farts. Cut the cheese and kick it up with this state of the fart hot sauce. A perfect blend of five tropical fruits, all-natural - gentle heat, enjoyable to all. All Natural, No MSG, No Preservative
Ingredients:Papaya, pineapple, banana, passion fruit, white vinegar, curry, Habañero peppers, passion and guava fruit juice, lemon juice, garlic, salt. From Ohio
Hot As Shit Hot Sauce
"This is, by far, the hottest hot sauce made that still has great taste." Great in chili, brownies and to spice up your favorite hot sauce!!! 
Ingredients: Red wine vinegar, molasses, onion, garlic, Jalapeño peppers, oleoresin capsicum extract, cinnamon, clove, Habañero pepper extract, herbs, spices. Made for Peppers in Lewes, Delaware
Sir Fartalot's Hot Sauce
Label graphic is of a farting knight in shining armor. After turbulent tournaments, Sir Fartalot enjoys a good bowl of beans, spiced up with his famous state of the fart hot sauce. Sir Fartalot also likes to put it on eggs, cheese, chicken, burgers, hot dogs, BBQ and almost anything else. Now it's your turn, Knight! No Fat, No Sodium, No Cholesterol, No Carb 
Ingredients: Jalapeño peppers, red wine vinegar, honey, Hot Red peppers, Gold Tequila, salt, brown sugar. From Ohio.
Wet Fart XX Hot With Pooh
This great sauce is made with pooh and will give you a run for the bathroom. The sauce whose print ad was banned by Chile Pepper Magazine. Get that warm, mushy, disgusting feeling in your pants, like when you let out just a little bit of gas. This cheese based sauce gives new meaning to the saying "who cut the cheese?" Ask one question - "Do you feel lucky?" when you try to sneak one out & instead you stain your pants. Great in pastas, on pizza and on wings!!! 
Ingredients: Aged red peppers, red wine vinegar, Parmesan cheese, Romano cheese, fresh carrots,  Habañero peppers, Key lime juice, Worcestershire, peppers,  tomato juice, honey, clam juice, fresh onions, fresh garlic in water, spices. From Florida.