Voodoo Chili Winter Angel Hot Sauce made with Samuel Adams Winter Lager Beer - (Three "3" Pack Of 5 Oz. Bottles)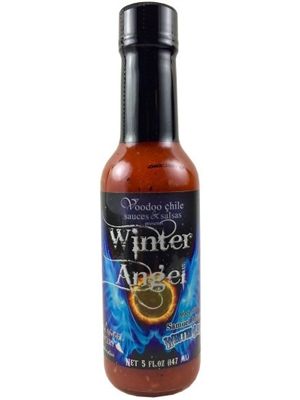 Voodoo Chili Winter Angel Hot Sauce made with Samuel Adams Winter Lager Beer - (Three "3" Pack Of 5 Oz. Bottles)
Voodoo Chili Winter Angel Hot Sauce made with Samuel Adams Winter Lager Beer
Voodoo's first collaboration with Boston Beer Company uses their delicious seasonal brew, Samuel Adams®' Winter Lager, resulting in a smooth, medium heat sauce that brings forward the subtle background flavors of that beer: Orange, Ginger & Cinnamon. A quick whiff from the bottle presents the wonderfully pleasant aroma of this beer, fire roasted peppers, and Fatalii hot peppers, in addition to strong hints of orange, ginger and cinnamon. Flavor-wise … you'll be hard pressed to find something even remotely similar in any other sauce.

The sweetness and smoothness of the fire roasted Red peppers serves as a perfect carrier to deliver the main flavors of this sauce in a scrumptious blast just before the lingering, tolerable heat of the infamous Fatalii pepper kicks in. The heat level on this one is moderate; it is neither a "beginner's" sauce nor a barn burner. Like anything from Voodoo Chile Sauces, it stands on its own as its own. They do not aim to craft things to showcase their "version" of an existing product … they take inspiration from an indescribable myriad influences and obsessively adjust the recipe until we can smile and say, "Oh, wow, that's it!" We start with a specific idea, and sometimes even a challenge for a finished product, and jump through the wormhole of creativity to finish it. This all around "Breakfast, Lunch & Dinner" sauce delivers on about any dish that you'd want to douse up with some sauce, but shines especially well on white meats, breakfast dishes with scrambled eggs, and with seafood.
From: Virginia
Ingredients: Roasted Red Peppers, Samuel Adams Winter Lager, orange marmalade, Pepper mash, apple cider vinegar, raw cane sugar, Himalayan salt, lemon juice, onion powder, toasted garlic, coriander seed, ginger, Szechuan peppercorn, cumin, cinnamon, and spices.